BATTLE OF THE TEAMS
A NEW TWIST ON AN ANCIENT SPORT
The marathon has long been thought of as a contest between individuals. But at RunCzech, we asked ourselves, "what if we could present it as a team sport?" Suddenly the drama doesn't end when the first runner crosses the finish line. In fact, it's just getting started.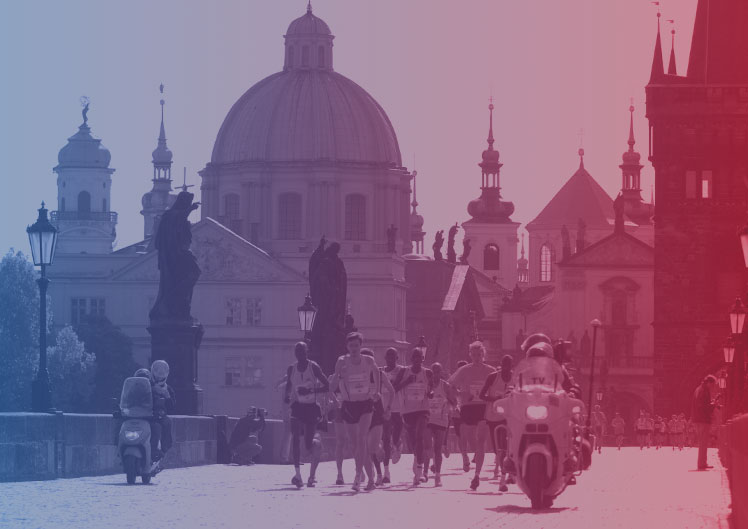 WHAT IS BATTLE OF THE TEAMS?
We took 32 of the best marathoners in the world, from Africa, Asia, Europe (including the Czech Republic) and elsewhere. Group them into four teams each made up of four women and four men, and each backed by corporate partners. Runners are "drafted" into teams based on their personal bests over the past 48 months, so that their collective abilities would be evenly—almost perfectly—matched. This gives each team an excellent chance to win gold.
HOW IT WORKS
Eight of the runners form the team, with two running backup in case some members fail to finish (DNF). Each team has a runner from the Czech Republic. Points are awarded based on the World Athletics Scoring System. And runners who achieve a personal best earn a 10% points bonus. In the end, points are tallied, similar to Formula 1 racing, and the team with the highest number of points wins. Prize money is shared equally among all team members.
WHY IT'S SO COOL
This is not just a new event. It's a whole new way to approach our sport. Turning the marathon into a team sport adds a ton of excitement to the race. One in which every runner matters. Every second matters.
It prolongs the drama. It motivates every runner to reach for their best.
And it makes the sport of running infinitely more watchable