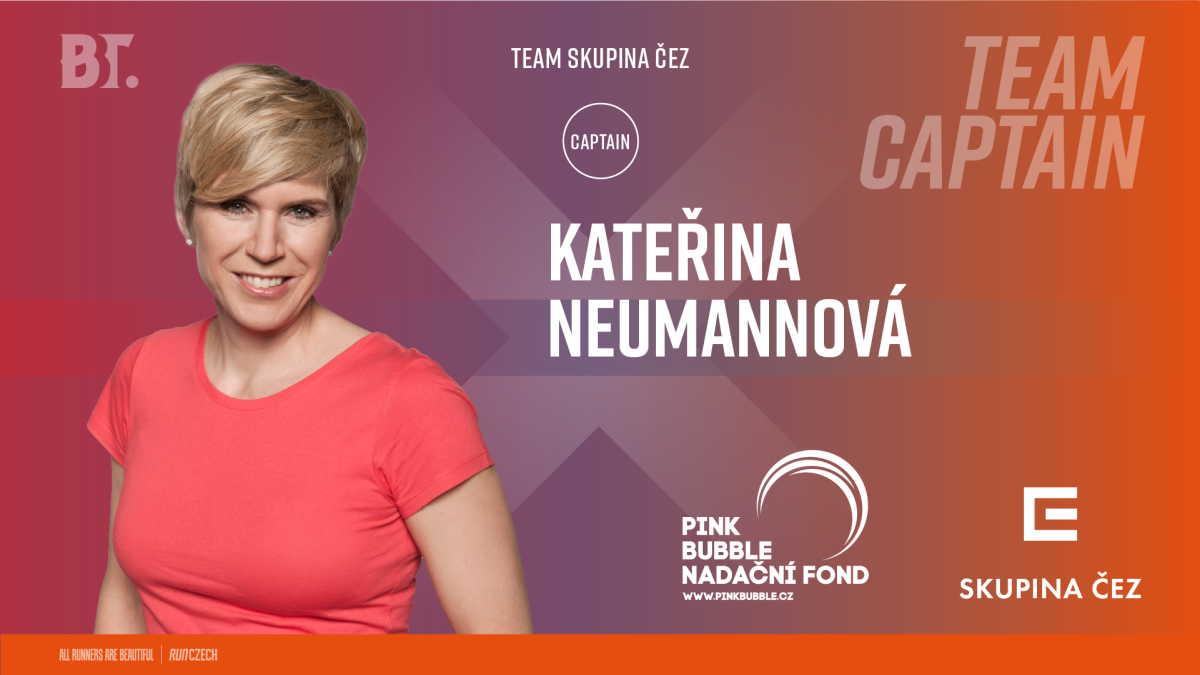 Kateřina Neumannová is the only Czech sportswoman in history who participated in both, the summer and winter Games. In 1996, at the Summer Olympics in Atlanta, she competed in the mountain bike competition. She's a former cross country skier, winning six Olympic medals for the Czech Republic, and adding two gold medals to her repertoire from the World Championships.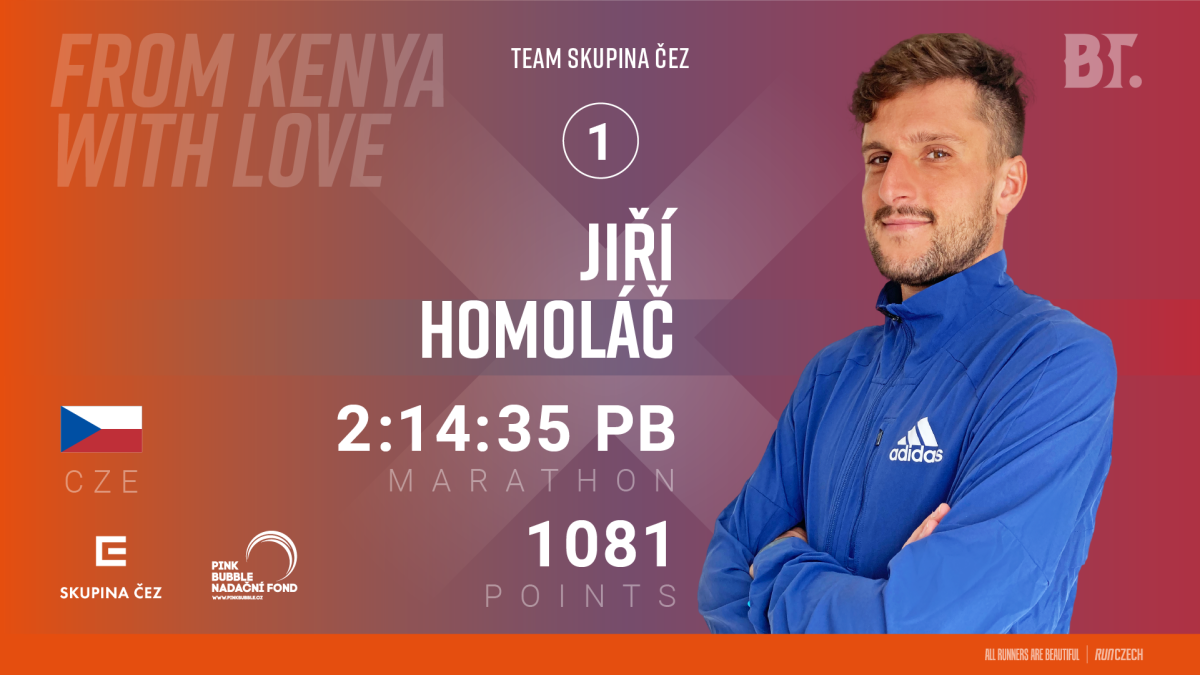 Jiří has been working on his marathon craft, among other high-altitude locations, in Iten, Kenya, immersed in one of the strongest running cultures in the world. With a 63:23 half marathon PB, Jirka is due for a marathon breakthrough and we are with him all the way to Tokyo and beyond!
Jiří lives his life in a picturesque village of Chudčice, near Brno dam and he grew up outdoors, always active – tennis, football, hockey and during winters he would do some gymnastics and various indoor sports. Always active, always competitive, Jiří started to play football for FC Kuřim at the age of 13. Only after an injury, about three years later, he realized that he actually enjoyed running and that it could take him far.

He is a graduate of Masaryk University in Brno (Sports Management) and is active in the sports marketing field – running training, running camps for hobby runners, lectures for companies, etc.

Jiří's nicknames in Kenya are Homi and Masai, even a "big machine", as he is somewhat heavier than the athletes he trains with. He remains involved with his hobbies – reading on sport, economics, politics and nature; consumption of educational content online; nature walks, cycling and mushroom-picking. In addition to running, Jiří is working on his golf game, which he finds good for mental relaxation.
Selection of notable performances
2021 National Champion (10,000m), 29:57.15
Winner of 2019 Pardubice Half Marathon, 1:04:28
3rd in 2018 Pardubice Half Marathon, 1:06:15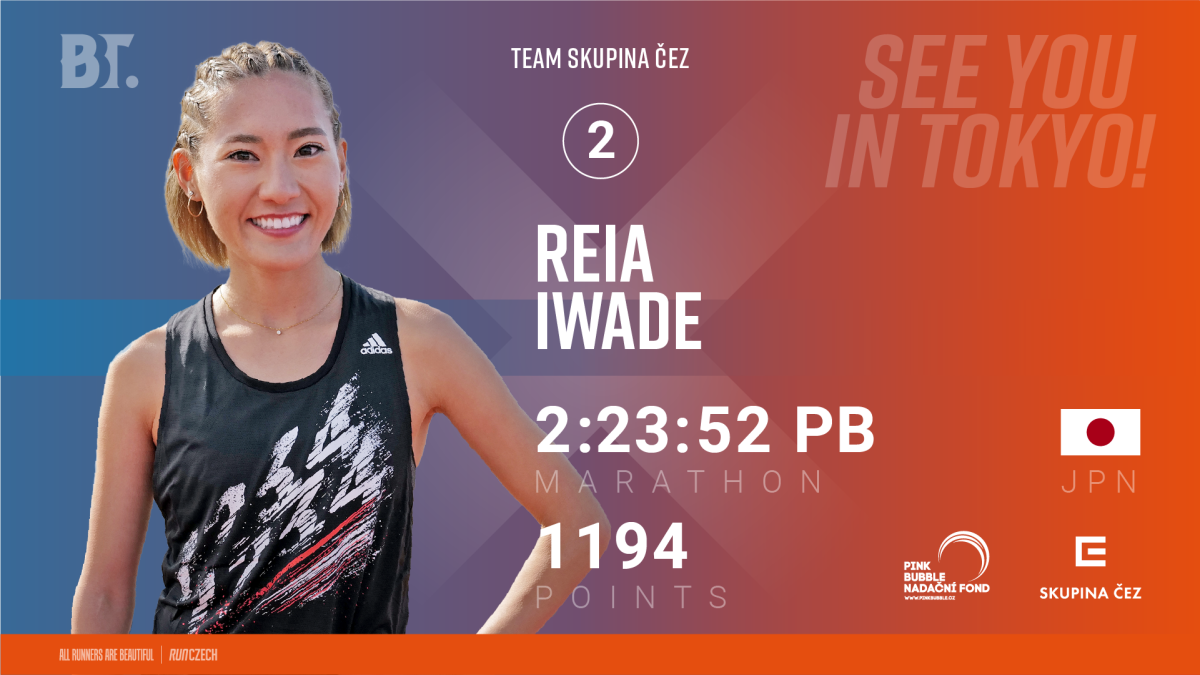 Reia started to run competitively in her native Japan, in junior high school, progressing to the Japanese corporate athletics system and turning full-time pro. She debuted over the marathon distance at only 19 years of age, with 2:27:21 in Yokohama in 2014. Currently, Reia is an independent pro-athlete and she remains as committed as ever to her craft.
Reia is coached by Ippei Akaboshi.
Selection of notable performances
4th in 2016 Berlin Marathon, 2:28:16
3rd in 2014 Yokohama Marathon, 2:27:21 (debut)
4th in 2018 Nagoya Marathon, 2:26:28
5th in 2019 Nagoya Marathon, 2:23:52
5th in 2017 Saitama Marathon, 2:31:11
5th in 2016 Nagoya Marathon, 2:24:38
7th in 2015 Nagoya Marathon, 2:29:16
Winner of 2019 Osaka Half Marathon, 1:09:46
3rd in 2015 Yamaguchi Half Marathon, 1:10:13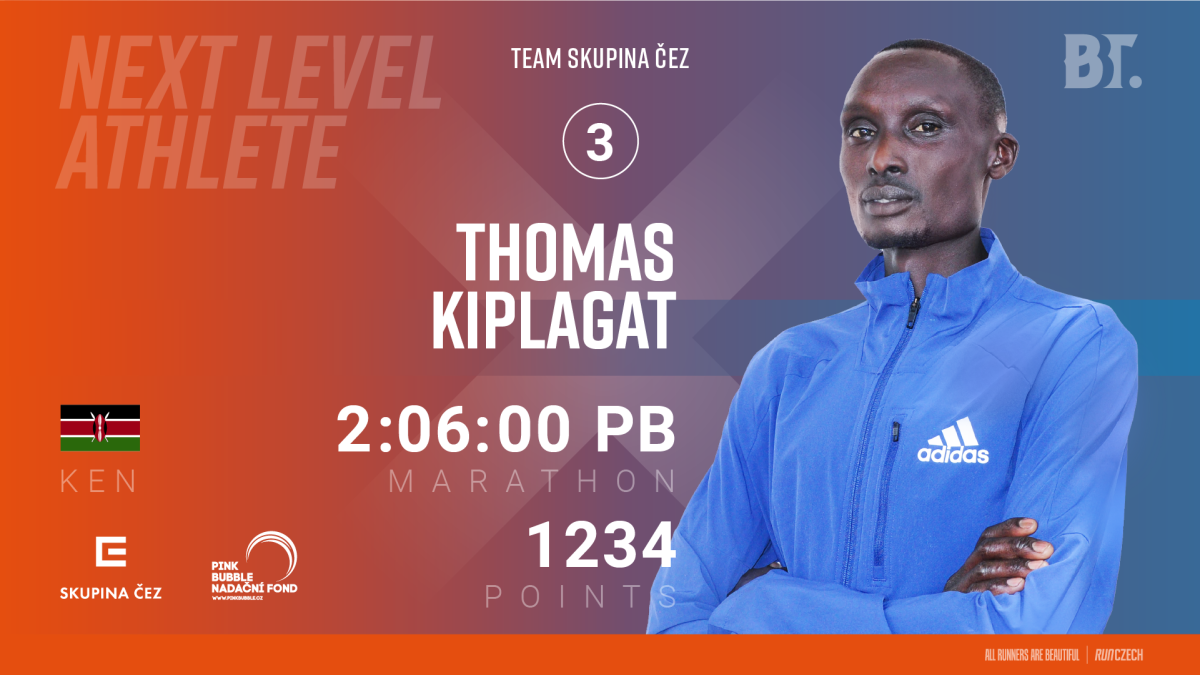 Thomas seems poised for a breakthrough after 2017 and 2019 victories in Seoul and a 3rd place finish in Abu Dhabi in 2018. He is a family man, father of two. Thomas is based in Kaptagat, Kenya and is ready for his Prague debut.
Thomas is from Elgeyo Border, Uasin Gishu, Kenya and he started to run seriously during his high school education days. In terms of training, he never left Kaptagat and he remains self-coached.
Selection of notable performances
Winner of 2019 Seoul Marathon, 2:06:00
Winner of 2017 Seoul Marathon, 2:09:13
Winner of 2013 Eldoret Marathon, 2:18:19
2nd in 2014 Barcelona Marathon, 2:12:12
3rd in 2018 Abu Dhabi Marathon, 2:07:12
3rd in 2014 Seoul Marathon, 2:07:52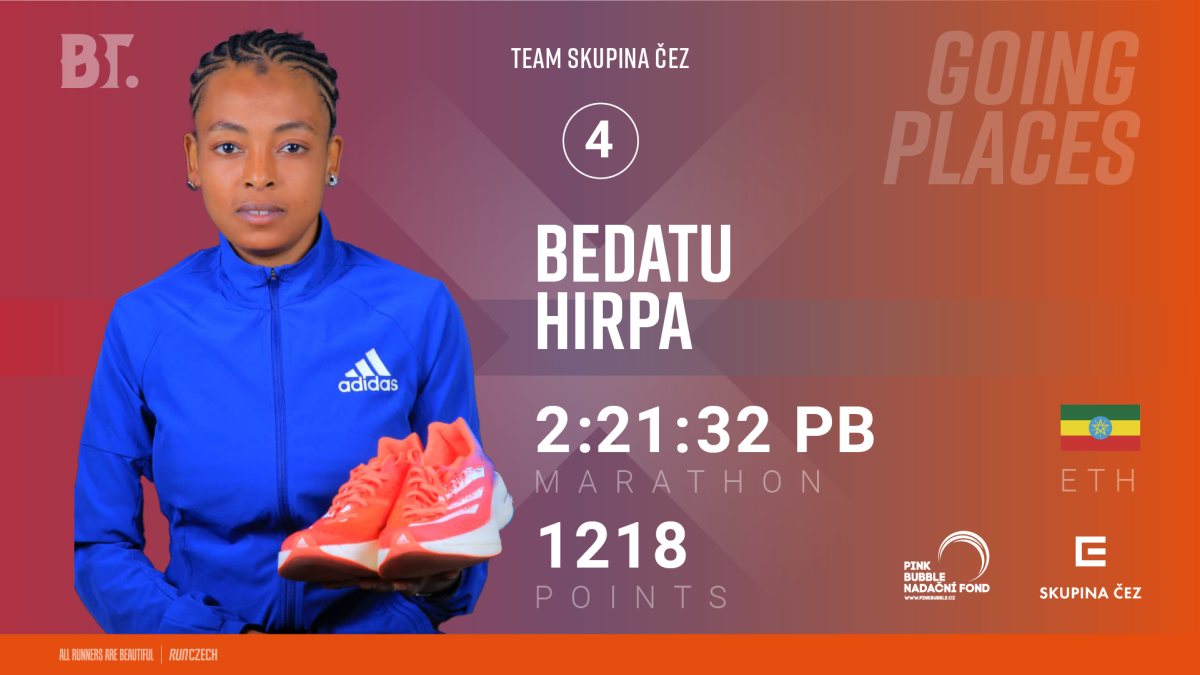 Bedatu is another globe trotter, with Top 5 finishes in Dubai, Tokyo, Seville, Frankfurt, Athens, Madrid… Full passport of visa stamps, full cabinet of trophies and medals. Her 2019 seemed a bit below-par, but she bounced back in Dubai 2020 and we are expecting fireworks in Prague on 30 May.
Bedatu was born in Arsi zone, Oromia Region and is fifth of seven children. She has been a resident of Addis Ababa since 2015 and like many of her country-women, she admired most recognized Ethiopian athletes and this kept her motivated and committed from the beginning.

Meaning of her name, Bedatu – to be blessed.
Selection of notable performances
2015 World U18 Champion (1500m)
5th in 2019 Tokyo Marathon, 2:23:43
Winner of 2017 Athens Marathon, 2:34:18 (debut)
3rd in 2020 Dubai Marathon, 2:21:55
3rd in 2018 Sevilla Marathon, 2:25:54
3rd in 2018 Frankfurt Marathon, 2:21:32
3rd in 2017 Madrid Marathon, 2:34:47
Winner of 2019 Shanghai Half Marathon, 1:12:11
3rd in 2019 Bogota Half Marathon, 1:13:17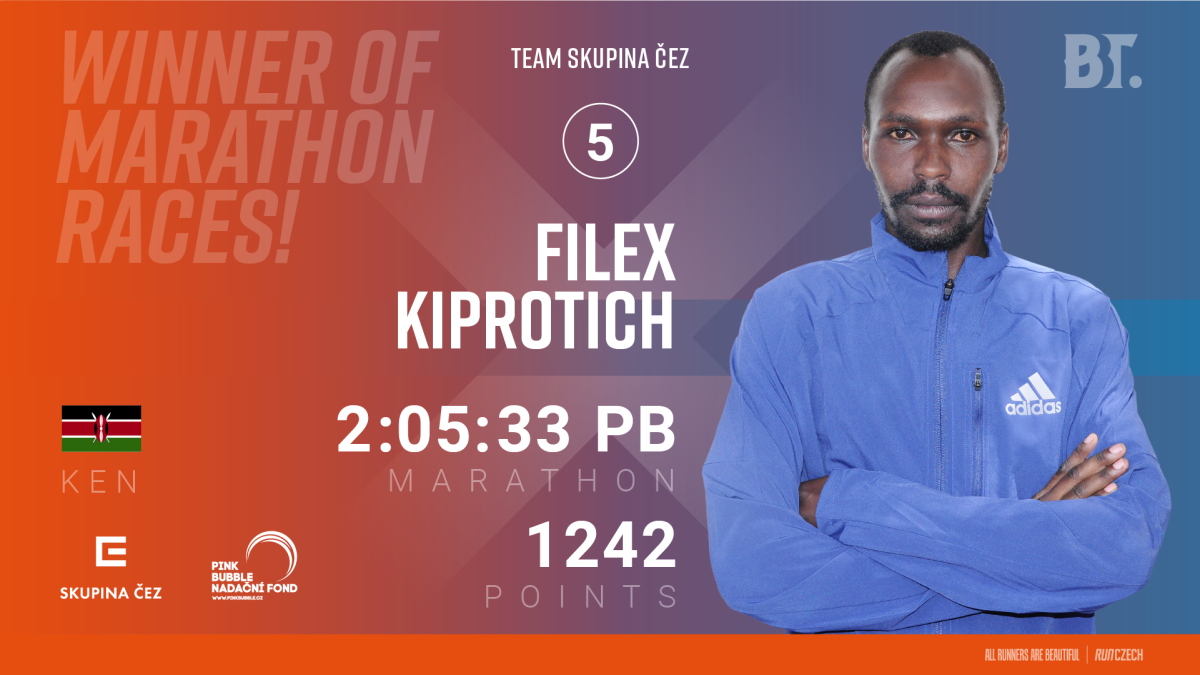 Born in the Eldoret area in Kenya's Rift Valley, Filex started to run in 2009, after he graduated from high school. He is the marathon winner – Daegu, Sydney, Gongju, Honolulu and as the father of two, he has a lot of reasons to run and compete and we will be cheering him on in Prague for the first time.
Filex is based in Kaptagat and is self-coached and trains with a small group of athletes. His second name, Kipchirchir, means – birth was quick, with no problems.
Selection of notable performances
Winner of 2019 Daegu Marathon, 2:05:33
Winner of 2019 Sydney Marathon, 2:09:49
Winner of 2017 Gongju Marathon, 2:06:54
Winner of 2016 Gongju Marathon, 2:06:58
Winner of 2015 Honolulu Marathon, 2:11:43
Winner of 2014 Rennes Marathon, 2:08:05
2nd in 2015 Seoul Marathon, 2:06:59
2nd in 2013 Rennes Marathon, 2:09:43
3rd in 2020 Lake Biwa Marathon, 2:08:48
4th in 2018 Singapore Marathon, 2:16:06
5th in 2018 Seoul Marathon, 2:07:57
8th in 2017 Seoul Marathon, 2:09:56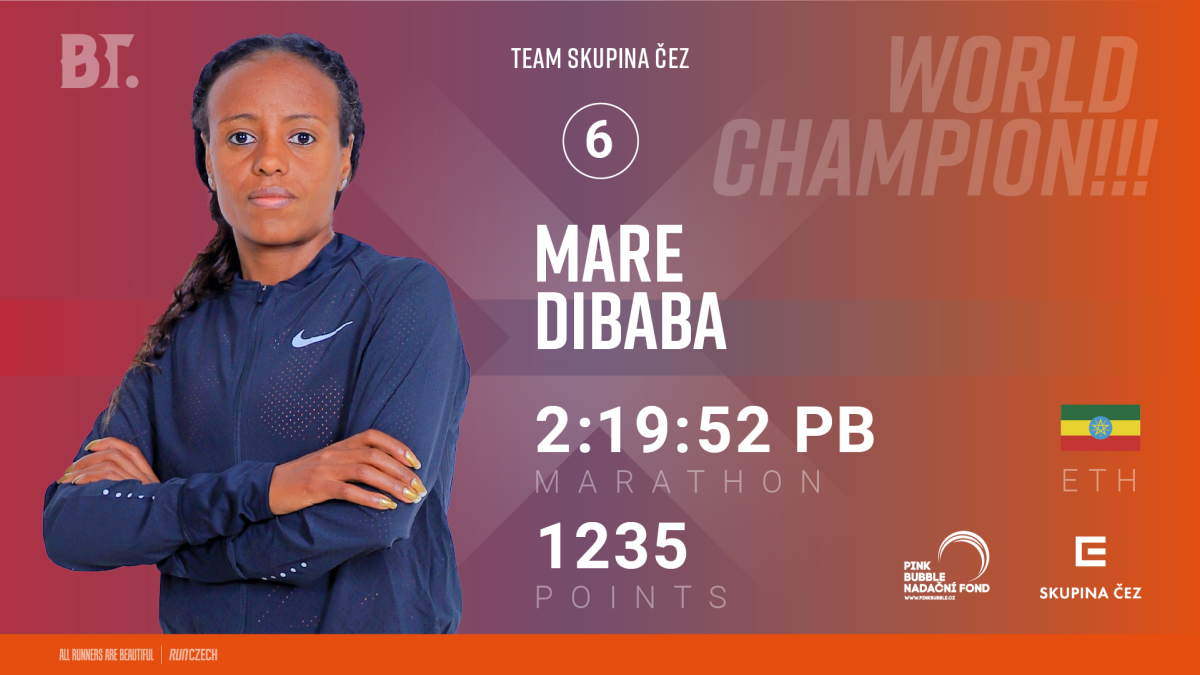 First Ethiopian woman to win marathon World Champion title. Olympic Bronze medallist from Rio 2016. Distinguished Abbott World Marathon Majors performer with strong performances in Chicago, Boston and Berlin. What-a-name – Mare Dibaba, World Champion!
Mare (honey in Amharic) is a great champion of our sport who lives a peaceful life in Ethiopia, alternating between training, recovery, family, Gospel music, some football and movies.
Selection of notable performances
2015 World Champion (marathon), 2:27:35
3rd in 2016 Olympic Games (marathon), 2:24:30
8th in 2017 World Championships (marathon), 2:28:49
22nd in 2012 Olympic Games (marathon), 2:28:48
Winner of 2011 All-African Games (half marathon), 1:10:47
Winner of 2014 Chicago Marathon, 2:25:37
2nd in 2019 Berlin Marathon, 2:20:21
2nd in 2015 Boston Marathon, 2:24:59
2nd in 2014 Boston Marathon, 2:20:35
6th in 2016 London Marathon, 2:24:09
7th in 2018 London Marathon, 2:27:45
Winner of 2015 Xiamen Marathon, 2:19:52
Winner of 2015 Beijing Marathon, 2:27:35
Winner of 2014 Xiamen Marathon, 2:21:36
2nd in 2011 Toronto Marathon, 2:23:25
3rd in 2012 Dubai Marathon, 2:19:52
3rd in 2011 Los Angeles Marathon, 2:30:25
3rd in 2010 Roma Marathon, 2:25:38 (debut)
5th in 2010 Frankfurt Marathon, 2:25:27
Winner of 2018 Glasgow Half Marathon, 1:09:15
Winner of 2017 Lisbon Half Marathon, 1:09:43
Winner of 2014 Bogota Half Marathon, 1:15:34
Winner of 2011 Yangzhou Half Marathon, 1:09:41
Winner of 2010 Parkersburg Half Marathon, 1:10:20
Winner of 2010 Rabat Half Marathon, 1:11:10
Winner of 2008 Beirut Half Marathon, 1:15:41
Winner of 2008 Warsaw Half Marathon, 1:11:24
2nd in 2011 Bogota Half Marathon, 1:13:54
2nd in 2010 Ras Al Khaimah Half Marathon, 1:07:13
2nd in 2008 Udine Half Marathon, 1:10:32
3rd in 2016 Houston Half Marathon, 1:07:55
3rd in 2011 Ras Al Khaimah Half Marathon, 1:08:57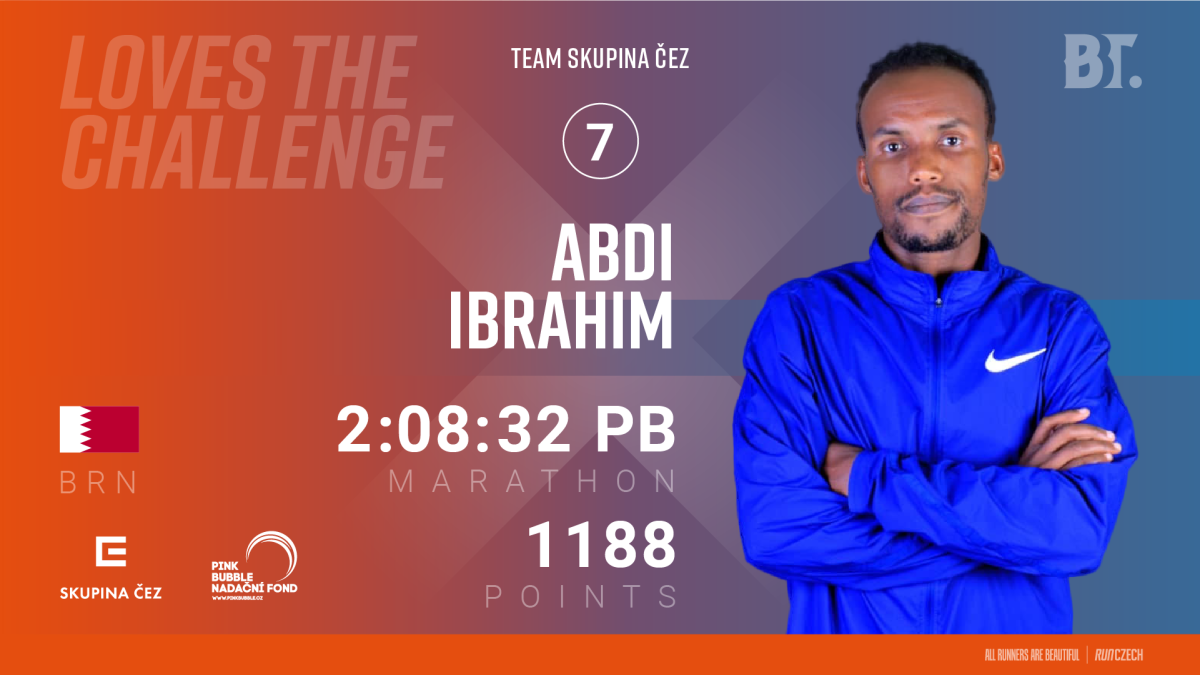 It seems that Abdi loves the challenge – 2nd in Rome, Istanbul and the winner in Hefei in his marathon career thus far. Based on these performances we could expect him to do well in the Battle of the Teams.
Abdi hails from the Arsi Region of Ethiopia, world famous for coffee production and known as the central hub of most of the athletics coming from Ethiopia. Many top talents hail from this region. Arsi is made up of the Oromo people, Oromifya language is spoken, different from Amharic, the national language of Ethiopia.

Abdi comes from a family of athletes, as his older brother Gebo was the Houston Marathon champion, and his first cousin Amane Gobena is a decorated female marathoner; and he has many younger brothers and sisters coming up in athletics in school.

Abdi switched his allegiance to Bahrain many years ago and has represented Bahrain and gathered medals for the country in many Arab Championships and competitions.
Selection of notable performances
Winner of 2017 Hefei Marathon, 2:12:00 (debut)
2nd in 2018 Istanbul Marathon, 2:10:37
2nd in 2018 Rome Marathon, 2:08:32
Rebecca became a mother in late 2018 and her comeback is now complete. With second places in Vienna, Beijing, Singapore, Rebecca has shown that she could add lots of value to any of the teams, especially as she can run on different types of courses and in different weather conditions.
On a return to competitive racing, after giving birth to a daughter, Caren Chepkoech, Rebecca placed 5th in the 2019 Shenzhen Marathon and after long period without competition (2020 and first half of 2021) due to Covid-19 pandemic, she is to put herself to the test in Prague.

She comes from the sporting family, with her two sisters also being athletes. She is a football fan and Chelsea FC supporter. She enjoys traveling and movies.
Selection of notable performances
Winner of 2016 Singapore Marathon, 2:43:03
Winner of 2013 Taipei Marathon, 2:33:20
Winner of 2013 Istanbul Marathon, 2:29:05
2nd in 2017 Singapore Marathon, 2:38:48
2nd in 2017 Beijing Marathon, 2:30:31
2nd in 2017 Vienna Marathon, 2:24:25
2nd in 2015 Ottawa Marathon, 2:25:41
2nd in 2014 Dongying Marathon, 2:32:26
2nd in 2013 Düsseldorf Marathon, 2:27:52 (debut)
3rd in 2016 Toronto Marathon, 2:28:52
3rd in 2015 Saitama Marathon, 2:29:11
3rd in 2014 Chingqing Marathon, 2:31:02
4th in 2016 Paris Marathon, 2:31:28
5th in 2019 Shenzhen Marathon, 2:38:06
Winner of 2015 Stramilano Half Marathon, 1:08:21
2nd in 2017 Ceske Budejovice Half Marathon, 1:13:05
2nd in 2016 Gifu Half Marathon, 1:11:09
3rd in 2018 Roma-Ostia Half Marathon, 1:11:04