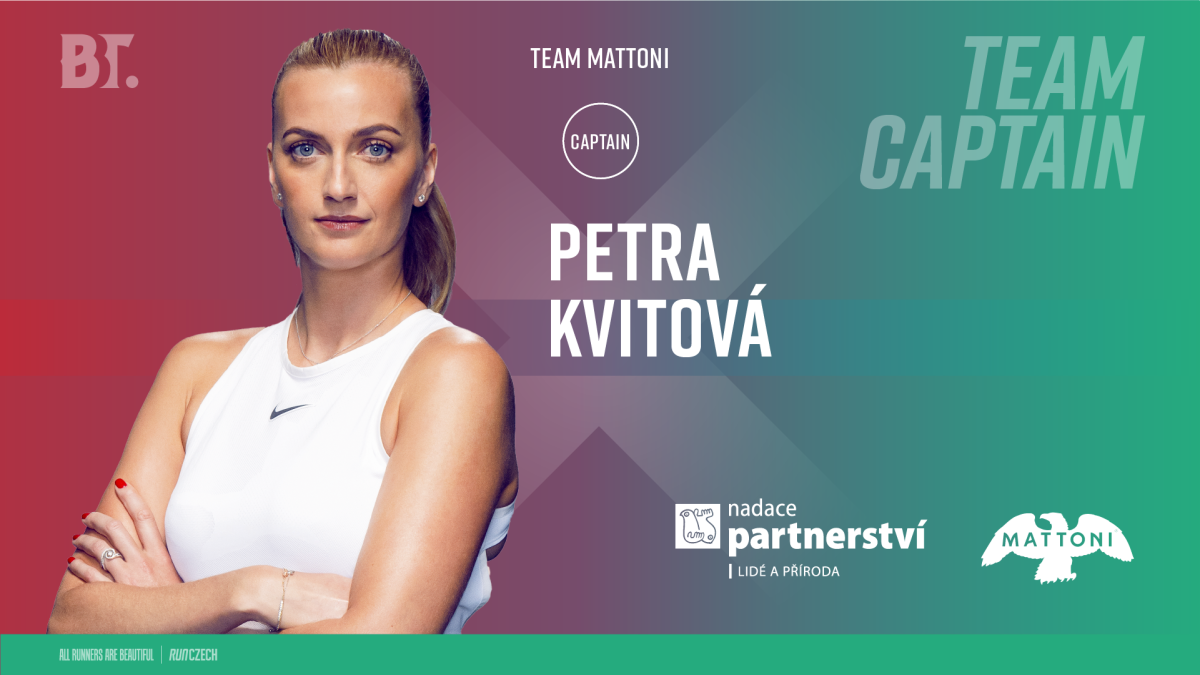 Born in the Moravian-Silesian region. In her exciting career and since 2006, Petra's biggest success is winning two Wimbledon titles, but with twenty-eight women's singles tournaments under her belt, she's a champion in the hearts of her nations people, winning the Fed Cup 6 times as part of the National team, in addition to swooping the 2016 Olympic bronze medal.
Recent mother, wife, dog owner, dreamer. Olympian – Winter Games, world class in cross-country skiing, working hard to make Czech Team (marathon) for Tokyo 2020. Bronze medallist at 2018 European Championships – marathon, Top 8 in New York City Marathon. National Half marathon record holder. RunCzech Racing athlete. Eva, WOW!
Eva was born in Trutnov in a family which encouraged sport and activity, especially with Eva's mother taking her time with her pursuits on skis, as early as two years of age.

Growing up active and involved in winter sports, Eva completed primary and secondary education, to graduate from Business Academy in Trutnov and later she obtained a Bachelor's degree at the University of Hradec Králové - sports management. She enjoys studying and is fascinated by physiotherapy and body functioning in general.

With baby daughter Adéla and a samoyed Bella, her hands are full. In addition to running, she loves cross-country skiing, rollerblading or cycling with the family, and she uses swimming as regeneration.
Selection of notable performances
26th in 2016 Rio de Janeiro Olympic Games (marathon), 2:33:51
3rd in 2018 European Championships (marathon), 2:26:31
8th in 2016 European Half marathon Championships, 1:12:01
7th in 2017 New York City Marathon, 2:29:41
6th in 2016 Prague Marathon, 2:30:10 (debut)
Winner of 2018 Karlovy Vary Half Marathon, 1:11:54
Winner of 2017 Napoli Half Marathon, 1:11:54
5th in 2018 Olomouc Half Marathon, 1:11:10
5th in 2017 Olomouc Half Marathon, 1:12:01
5th in 2015 Usti nad Labem Half Marathon, 1:12:11
6th in 2017 Usti nad Labem Half Marathon, 1:11:22
6th in 2016 Olomouc Half Marathon, 1:15:16
8th in 2018 Prague Half Marathon, 1:11:01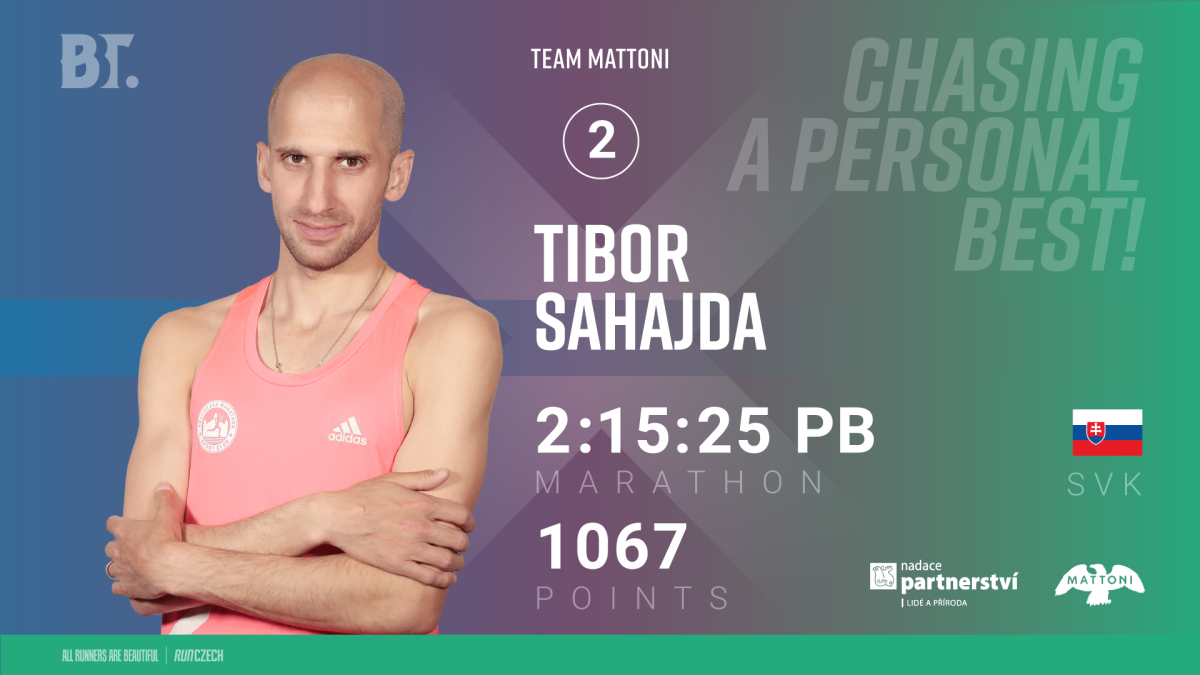 Tibor is multiple Slovak National Champion over 5000 and 10,000 meters, with three years of marathoning behind him and a progress from 2:17 to 2:15 level, with him continuing to search for a breakthrough and for a new personal best.
Tibor started to run at 17 years of age and before that was an avid footballer. His athletics career started as a lost bet – A veteran runner, elderly gentleman, made him a bet which involved a run to a neighbouring village. Tibor lost, the rest is history.

Since 2019, Tibor has been coached by Vladimír Molčan, who consulted him before the formal athlete – coach relationship was established. He is married and is a father to three-year old daughter Laura.

Affectionately known as Tibi or Tibčo, he continues to appreciate each competition he takes part in, knowing that sporting careers are short.
Selection of notable performances
2018-2021 National 10,000m Champion
2019-2020 National 5000m Champion
7th in 2019 Kosice Marathon, 2:15:25
8th in 2018 Kosice Marathon, 2:15:59
Winner of 2020 Čečehovského Half Marathon, 1:08:34
Winner of 2019 Bratislava Half Marathon, 1:05:25
4th in 2017 Rzeszów Half Marathon, 1:08:19
5th in 2018 Wroclaw Half Marathon, 1:06:34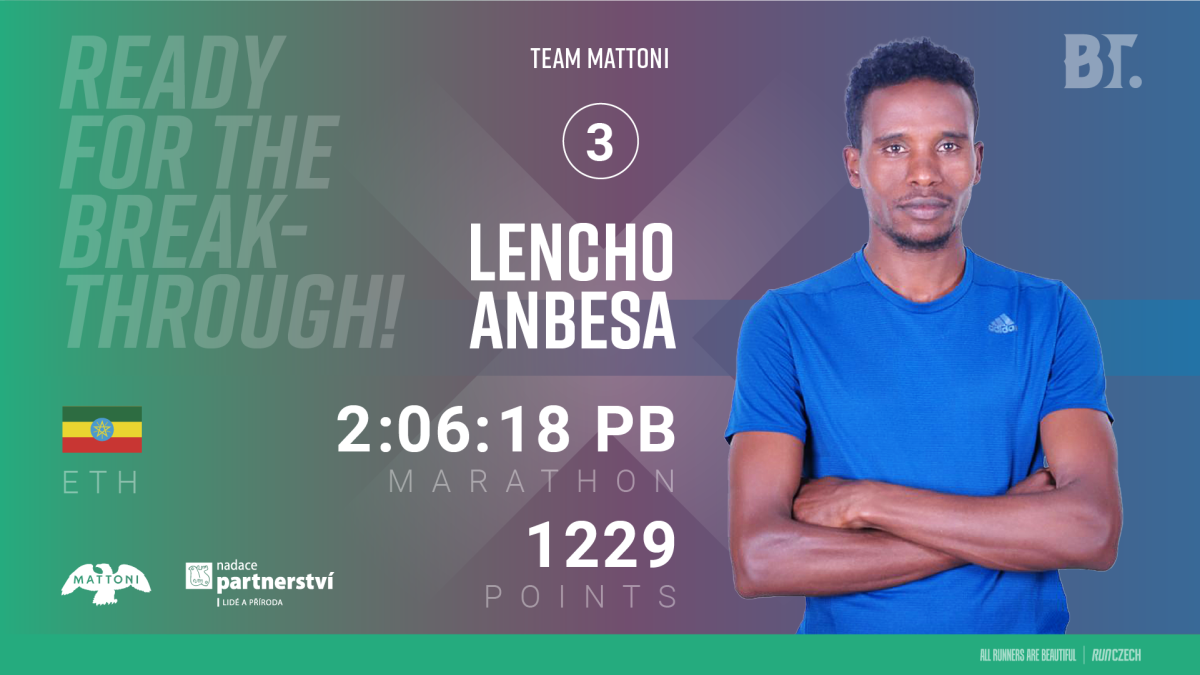 Lencho started running as a youngster after a long period of illness, on medical advice, and realised that he is talented, and, indeed, he is – Top 5 finishes since 2018 in Hefei and Dubai and a victory in Venice. Lencho is ready for the breakthrough…
Lencho was born in a small town called Arsi, located in the Oromia region in Assella, as the second of nine children and the meaning of his name is lion.

His favourite racing memory is a recent one – victory from 2020 Oromia Cross Country, against a strong field. Originally recruited for the 2020 Volkswagen Prague Marathon (cancelled due to Covid-19 pandemic), Lencho remained focused and in good training, with his Prague debut being the 2021 Battle of the Teams.

Lencho's little sister is following in his footsteps in athletics and is showing strong early talent and a good promise. In his spare time, he enjoys reading books, watching movies and taking long walks. He is a big fan of Manchester United FC.
Selection of notable performances
Winner of 2019 Venice Marathon, 2:10:49
3rd in 2018 Hefei Marathon, 2:11:46
4th in 2020 Dubai Marathon, 2:06:18
Winner of 2018 Kiev Half Marathon, 1:02:54
Winner of 2017 Kiev Half Marathon, 1:03:58
Winner of 2017 Bucharest Half Marathon, 1:01:09
4th in 2018 Lugano Half Marathon, 1:02:48
5th in 2018 Stramilano Half Marathon, 1:01:53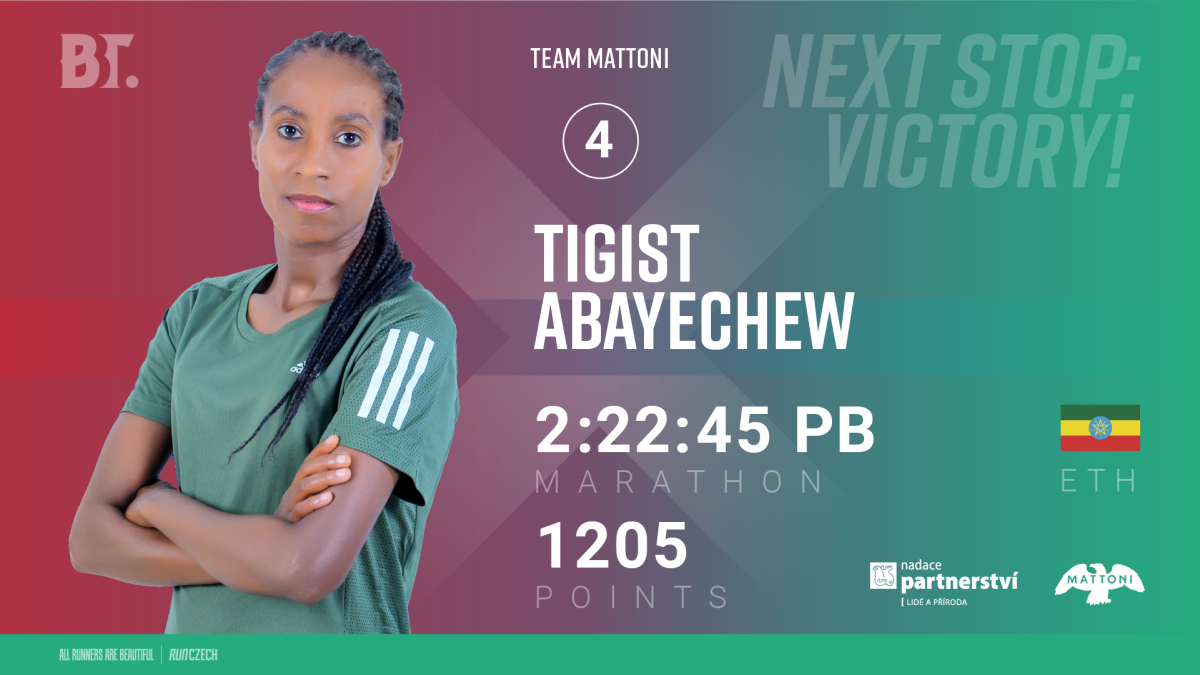 What a squad of athletes we will welcome to Prague! Next one is… Tigist from Ethiopia, who is seeking her first big marathon victory after Top 5 finishes in Dubai, Istanbul and Taiyuan. She is also a tennis fan… Wink-wink Petra Kvitová.
Tigist is engaged to Kebebe Liliso Heme who is also an athlete and they are training partners. She enjoys cooking and her favorite food is kitfo which consists of minced raw beef, marinated in mitmita (a chili powder based spice blend) and niter kibbeh (clarified butter infused with herbs and spices).
Selection of notable performances
2nd in 2019 Istanbul Marathon, 2:24:15
2nd in 2017 Taiyuan Marathon, 2:30:11 (debut)
4th in 2020 Dubai Marathon, 2:22:45
3rd in 2015 Philadelphia Half Marathon, 1:13:04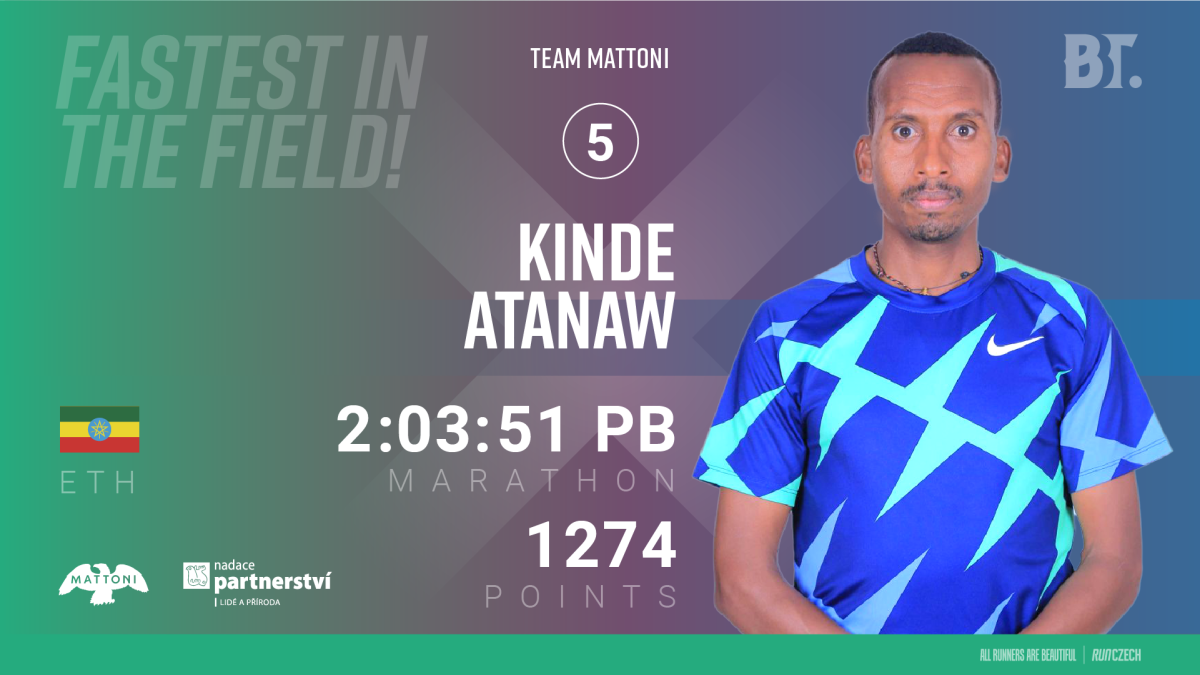 Fastest in the field, newcomer to marathon distance (2019), with a stunning victory in Valencia, Spain in 2:03:51. This Arsenal Football Club fan and future taxi business owner will be the man to watch on 30 May in Prague, Czech Republic, home of the Battle of the Teams.
Kinde is from Amhara region, home to the highest point in Ethiopia, Ras Dashen mountain (4,550m), and the source of the Blue Nile River.

He is a member of Amhara Police Athletics Club and he spends free time watching football, drinking coffee and socializing with friends and family.
Selection of notable performances
Winner of 2019 Valencia Marathon, 2:03:51 (debut)
4th in 2012 World U20 Championships (10,000m), 28:53.02
6th in 2017 Rabat Half Marathon, 1:02:52
7th in 2019 Copenhagen Half Marathon, 1:00:13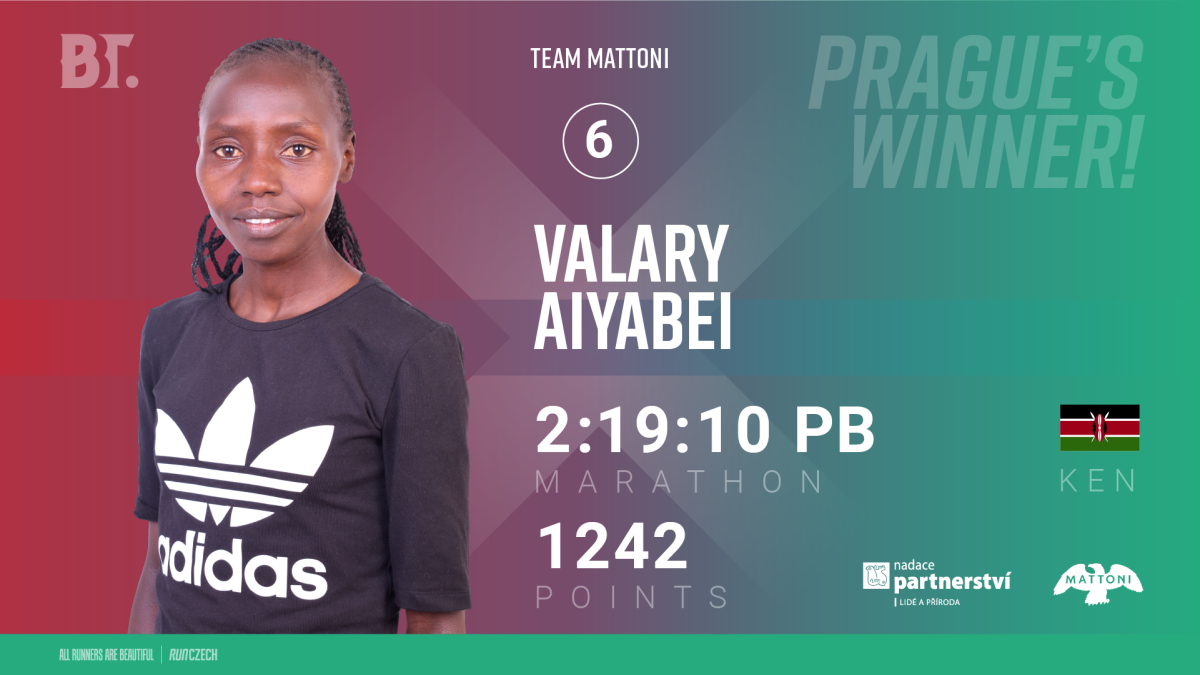 Our 2017 winner and one of the fastest ladies in the field. She is also a winner elsewhere, in Frankfurt, Beijing, Barcelona and Valencia! Fan of Chelsea Football Club and Lakers, this former sustenance-farmer is continuing to impress and grow.
Valary is the sixth born in the family of eight and is a mother to daughter, Michelle Jebet.

She started her training process in Kapkitony, where she would go for training and then immediately to the farm afterwards. It was not an easy life of training and farming at the same time. Valary is the only established athlete in the family, with her sister following in her footsteps.

She enjoys movies, traveling and cooking.
Selection of notable performances
3rd in 2017 Berlin Marathon, 2:20:53
Winner of 2019 Frankfurt Marathon, 2:19:10
Winner of 2019 Eldoret Marathon, 2:27:17
Winner of 2018 Beijing Marathon, 2:21:38
Winner of 2017 Prague Marathon, 2:21:57
Winner of 2016 Valencia Marathon, 2:24:48
Winner of 2016 Barcelona Marathon, 2:25:26
Winner of 2015 Eldoret Marathon, 2:43:19
Winner of 2014 Belgrade Marathon, 2:37:10
Winner of 2013 Mainz Marathon, 2:39:47 (debut)
2nd in 2018 Nagoya Marathon, 2:22:48
2nd in 2015 Marrakesh Marathon, 2:31:57
2nd in 2014 Rennes Marathon, 2:30:19
3rd in 2019 Nagoya Marathon, 2:23:01
6th in 2015 Lanzhou Marathon, 2:33:46
2nd in 2018 Gifu Half Marathon, 1:10:11
3rd in 2016 Lisbon Half Marathon, 1:10:44
4th in 2017 Prague Half Marathon, 1:07:50
5th in 2019 Ras Al Khaimah Half Marathon, 1:06:14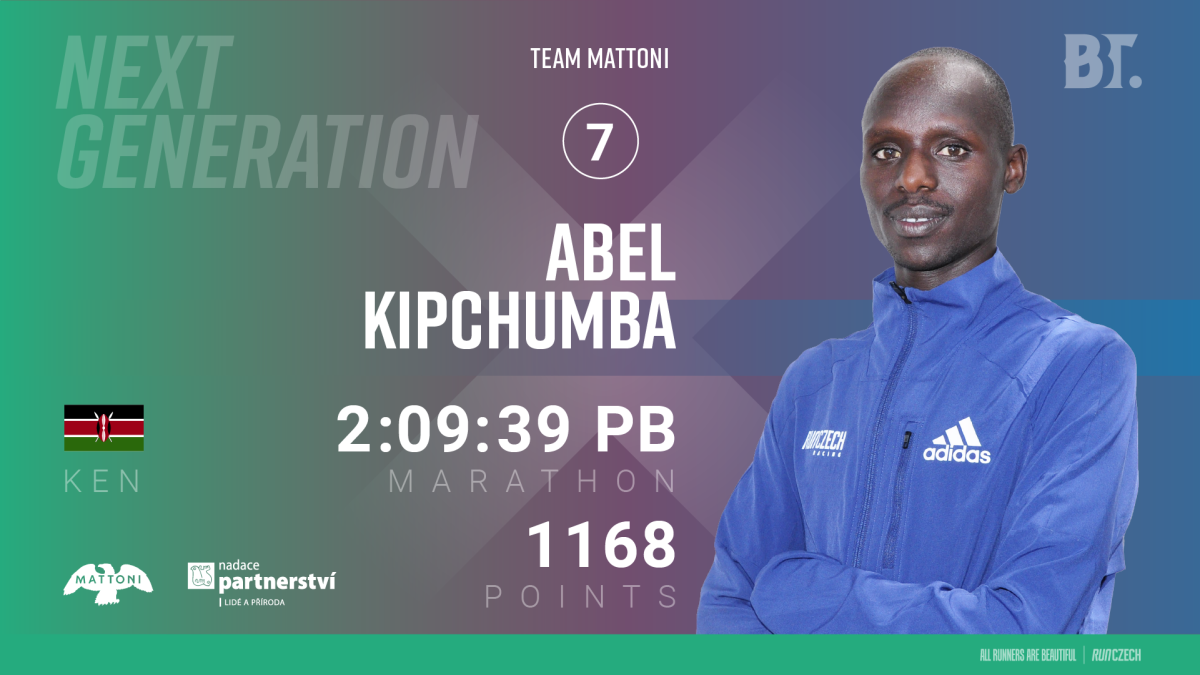 Abel is Iten, Kenya based RunCzech Racing athlete and is one of the young leaders of the team. He completed one marathon only so far, in Berlin 2019, and with 59:29 half marathon ability, we could be seeing a strong marathoner in the making.
Abel started running as a young boy in Sokosi village in Nandi County and after schooling he lived the life of manual labour and then decided to risk it all, by pursuing his athletics talent and building a career.

He is married to Sylvia and while being road racing specialist, he recently moved up to the marathon under the guidance of his coaches, Dan Ngetich and Julien Di Maria.

His nickname, Gipiswet, (small fast flying bird) was given to him due to his running abilities and being perceived as someone very fast by his community. Abel's last name, Kipchumba, means that he was born away from home (in the hospital).
Selection of notable performances
Winner of 2019 Valencia 15K, 41:55
Winner of 2018 Napoli Half Marathon, 1:00:12
2nd in 2020 Napoli Half Marathon, 1:00:35
3rd in 2018 Usti nad Labem Half Marathon, 1:00:39
3rd in 2018 Olomouc Half Marathon, 1:00:57
4th in 2018 Prague Half Marathon, 1:00:05
5th in 2020 Houston Half Marathon, 59:43
8th in 2018 Valencia Half Marathon, 59:29
9th in 2019 Ras Al Khaimah Half Marathon, 59:40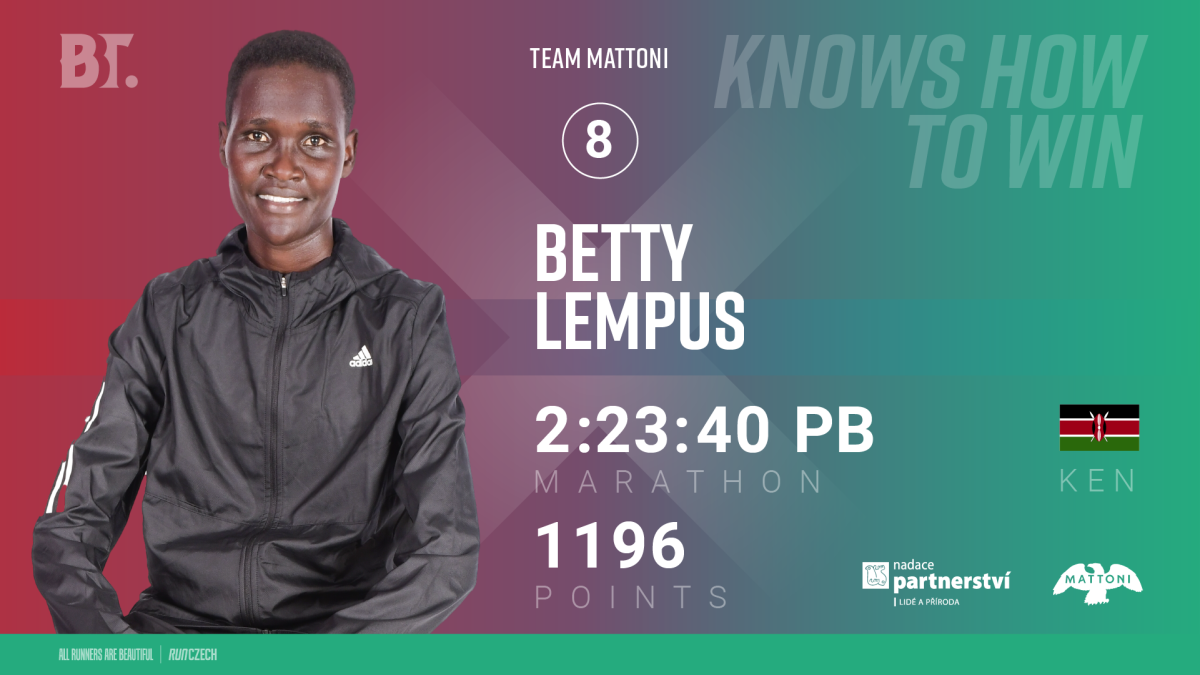 Winning is not easy. And Betty knows exactly how to do that, including marathon victories in Enschede and Hengshui. She spent recent months training consistently well and she will be testing her limits in Prague.
Betty was born in West Pokot, a remote area in the Northwest of Kenya, with most of the people of this land being pastoralists. She started running during her schooling, to marry soon after graduation and is a mother of two boys, aged seven and nine.

She started to train seriously in 2013, moving to the Kapsabet area in 2015 and joining 2Running Club soon thereafter.

Her role-model is Tegla Lorupe, one of the most decorated Kenyan athletes, who hails from the same tribe and area as Betty.
Selection of notable performances
Winner of 2017 Enschede Marathon, 2:29:31 (debut)
Winner of 2017 Hengshui Marathon, 2:30:47
3rd in 2018 Shanghai Marathon, 2:23:40
Winner of 2019 Krakow Half Marathon, 1:10:48
Winner of 2016 Montbéliard Half Marathon, 1:13:36
2nd in 2019 Napoli Half Marathon, 1:11:33
2nd in 2017 Stramilano Half Marathon, 1:09:25
3rd in 2018 Lisbon Half Marathon, 1:09:49