To state that Jiří Ježek is a warrior is putting it mildly, he is a real-life hero: a six-time Paralympic winner and a six-time World champion Paralympic cyclist, heroes are made of stuff like this. The man is a legend, finishing the 2011 Prague Half Marathon in 1 hour 50 minutes, fighting through pain to reach the finishing line.
Multiple National Champion over 5000 and 10,000 meters distances. Missed on 3 April this year, in Belp, Switzerland, 2020 Olympic Games marathon standard by 9 seconds. Our marathon future, running for the Olympic standard and for her dream of representing Czech Republic in Tokyo.
Prague-born-and-raised, from a sporting and active family, Moira has dedicated her time to hard work and recovery – 12 to 14 sessions per week, 170km weekly mileage on average. With a degree in graphics, she already knows what she is planning for in retirement, which is, we believe, very far away, as she is just getting started with the marathon distance.
Selection of notable performances
2017-2021 National 10,000m Champion
3rd in 2021 Belp Marathon, 2:29:39
34th in 2020 World Half Marathon Championships, 1:11:08
70th in 2019 Aarhus World Cross Country Championships
Born and raised at 3,900m altitude in Peruvian mountain-ranges, Wily is 7th of eight siblings, from a family of athletes and hardworking people of the soil. From the humble beginnings of a life without electricity, running water and other basics (for most of us) to national 1500m, 5000m and marathon titles and a chance to make Olympic team for Tokyo 2020.
Wily hails from the annexed field of Chuamba, 30 kilometres from the city of Huancayo, Peru; from a family of athletes – older sister, his uncles and cousins; and from the family of livestock traders. His childhood was made of physical activity, participating in collecting and selling cows, mules, donkeys and horses, with two weekly walks of six hours each to take cattle to fairs.

He is a father to daughter Nayara and he is affectionately known as Thoroughbred, because there is no mix of surnames in his name (Wily David Canchanya Canchanya), as both, paternal and maternal surnames are the same.
Selection of notable performances
Winner of 2019 Internacional de los Andes Marathon, 2:22:10
6th in 2019 Pan American Games (marathon), 2:13:22
5th in 2017 Mexico City Marathon, 2:18:46
5th in 2017 Los Angeles Marathon, 2:14:53
2nd in 2014 Toronto Half Marathon, 1:04:50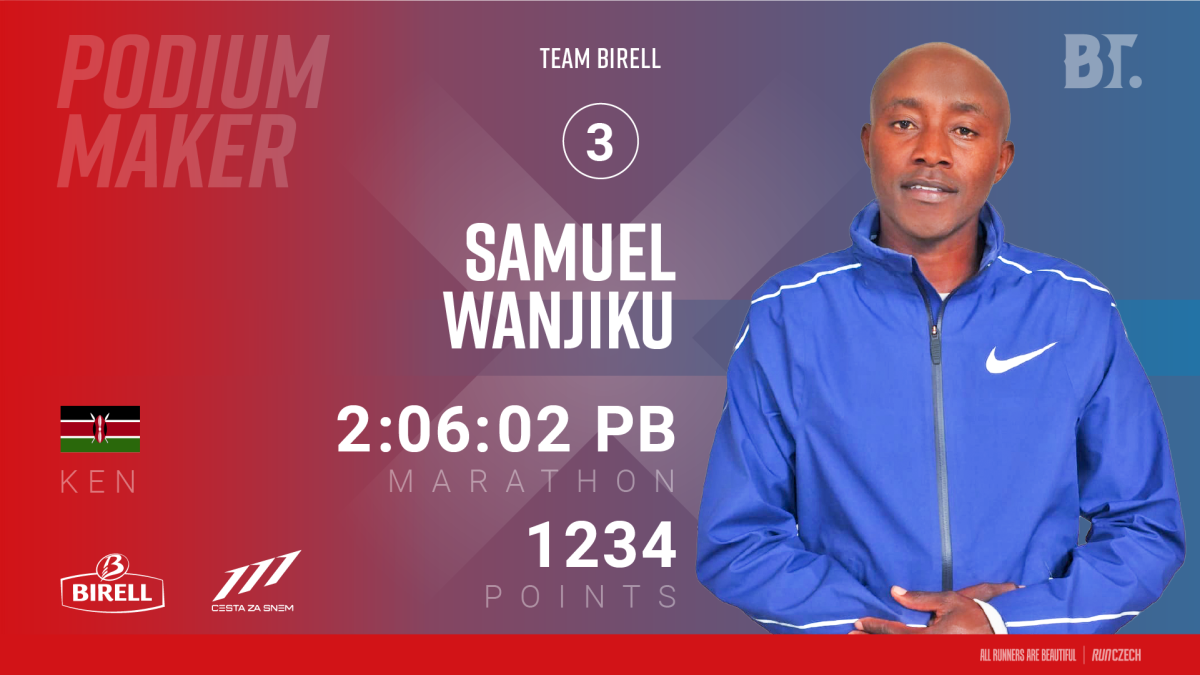 Samuel showed early talent, around the age of 10, and after completion of primary education he was sponsored to join Japanese secondary school, with Samuel receiving education in Japan and running for Aishi Steel company for seven years. Lots of experience, lots of athletic success and a long and rewarding career.
Samuel was the first of four children and is the only athlete in the family. He lives in Nyahururu, 210km south of Nairobi and as a youngster he took care of grandparents' sheep and did the chores usually left for the firstborn to attend to.

He is fluent in Japanese and is always happy to return to the country.

Samuel is married to Ruth Chelangat and together they have three children – Victor Jinga, Maxwell Mwangi and Travis Jinga. .
Selection of notable performances
3rd in 2015 Chicago Marathon, 2:10:06
7th in 2012 Chicago Marathon, 2:07:26
Winner of 2015 Lake Biwa Marathon, 2:09:08
Winner of 2014 Lisbon Marathon, 2:08:21
Winner of 2012 Lake Biwa Marathon, 2:07:04
2nd in 2019 Lisbon Marathon, 2:06:02
2nd in 2018 Lisbon Marathon, 2:07:51
3rd in 2018 Shenzen Marathon, 2:12:15
5th in 2013 Shanghai Marathon, 2:09:55
6th in 2019 Milano Marathon, 2:14:08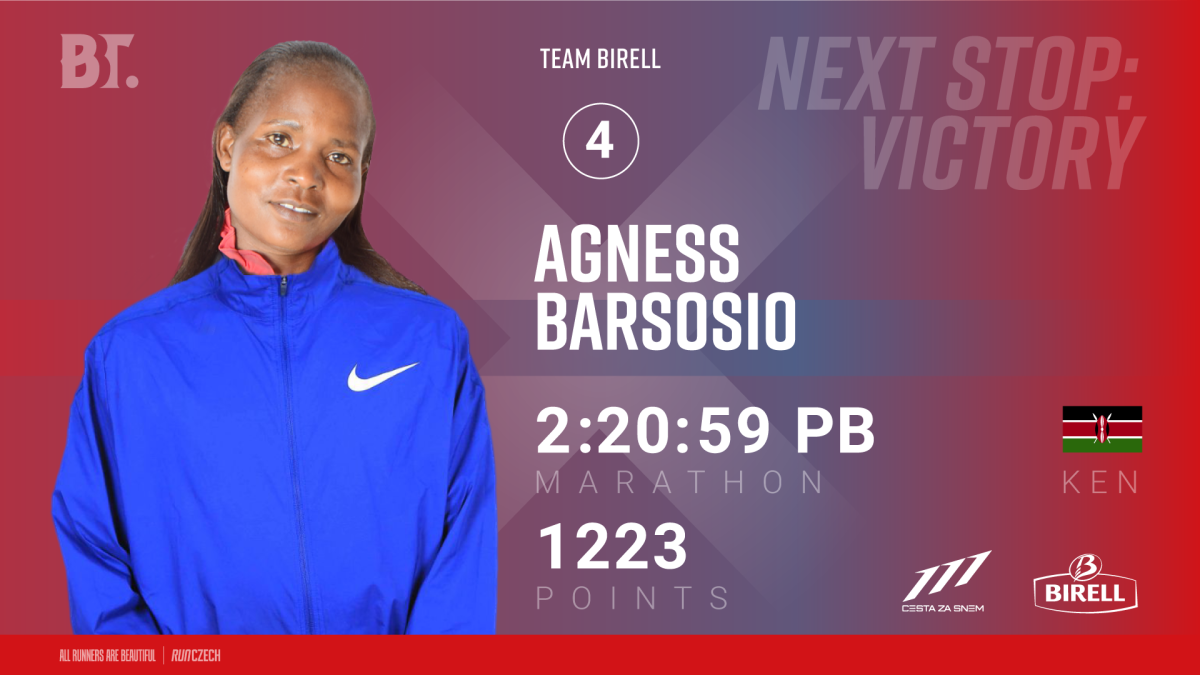 Agness knows how to run a marathon. Period. Podiums in Paris, Seoul, Istanbul, Hangzhou, Gold Coast… Pretty much everywhere on the map. Including Ceske Budejovice, of course. With the extraordinary long career of well over a decade, Agness is the one to watch for.
Agness is a mother to two girls – Annisan Jerop (12) and Annet Jepleting (10). She was born and raised in the Uasin Gishu County, Moiben area, which has produced many leading distance runners. She comes from a family of six kids, with her sister, Stellah Barsosio and brother, Dickson Barsosio, being established athletes.

Coming from a farming background, Agness still enjoys spending time with the cattle and in the fields, with farming being her hobby nowadays.
Selection of notable performances
Winner of 2019 Hangzhou Marathon, 2:25:20
Winner of 2016 Istanbul Marathon, 2:28:25
Winner of 2014 Guangzhou Marathon, 2:31:17
Winner of 2012 Düsseldorf Marathon, 2:25:49
2nd in 2017 Paris Marathon, 2:20:59
2nd in 2014 Danzhou Marathon, 2:29:54
2nd in Porto Alegre Marathon, 2:40:57
3rd in 2018 Gold Coast Marathon, 2:27:46
3rd in 2016 Seoul Marathon, 2:24:59
3rd in 2015 Foz do Iguacu Marathon, 2:55:56
3rd in 2015 Chongqing Marathon, 2:27:52
3rd in 2013 Daegu Marathon, 2:24:03
5th in 2012 Frankfurt Marathon, 2:24:27
6th in 2014 Poznan Marathon, 2:53:25
Winner of 2017 Ceske Budejovice Half Marathon, 1:09:53
Winner of 2017 Brazzaville Half Marathon, 1:11:52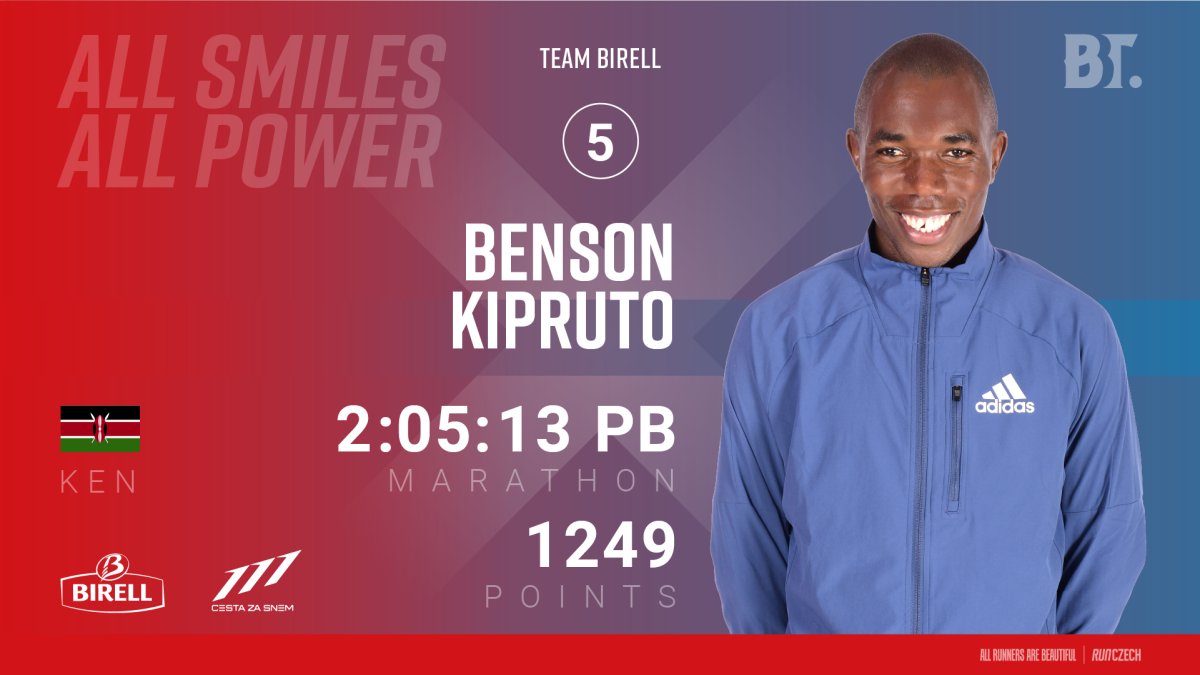 Benson set his half marathon personal best in Prague's Letna Park in September 2020 during the Prague Restart event organized by RunCzech. He is based in Kapsabet, Kenya. With 2:05:13 PB from 2019 and recent half marathon personal best, he is potentially one of the favourites and someone to watch for.
Benson comes from the Nandi tribe from which most of the top Kenyan runners do come from. He started running in school, but once he completed his studies in 2011, he couldn't continue with training, but instead he had to search for a job to provide for himself. From 2011 to 2015 he operated a small shop in his village, selling basic commodities and making ends meet.

In 2015 his passion for running pushed him to try his luck and he decided to go back to training. Early in 2016, he joined 2Running Club, a group of athletes which includes Amos Kipruto, Evans Chebet and Vincent Kipchumba, just to mention a few.

Under the guidance of coach Claudio Berardelli, he had his marathon debut in Athens 2016 and in 2018 he won the Toronto Marathon - his first major achievement. A year later, again in Toronto, he set his current PB of 2:05:13.

Father of a two-year old daughter, Benson is fully motivated to continue discovering his athletic potential, providing for the family and improving his community.
Selection of notable performances
Winner of 2018 Toronto Marathon, 2:07:24
2nd in 2017 Gongju Marathon, 2:07:51
2nd in 2016 Athens Marathon, 2:13:24 (debut)
3rd in 2018 Seoul Marathon, 2:07:11
4th in 2019 Toronto Marathon, 2:05:13
4th in 2017 Prague Marathon, 2:09:51
7th in 2020 London Marathon, 2:06:42
Winner of 2020 Guadalajara Half Marathon, 1:02:13
3rd in 2020 Prague Restart Half Marathon, 1:00:06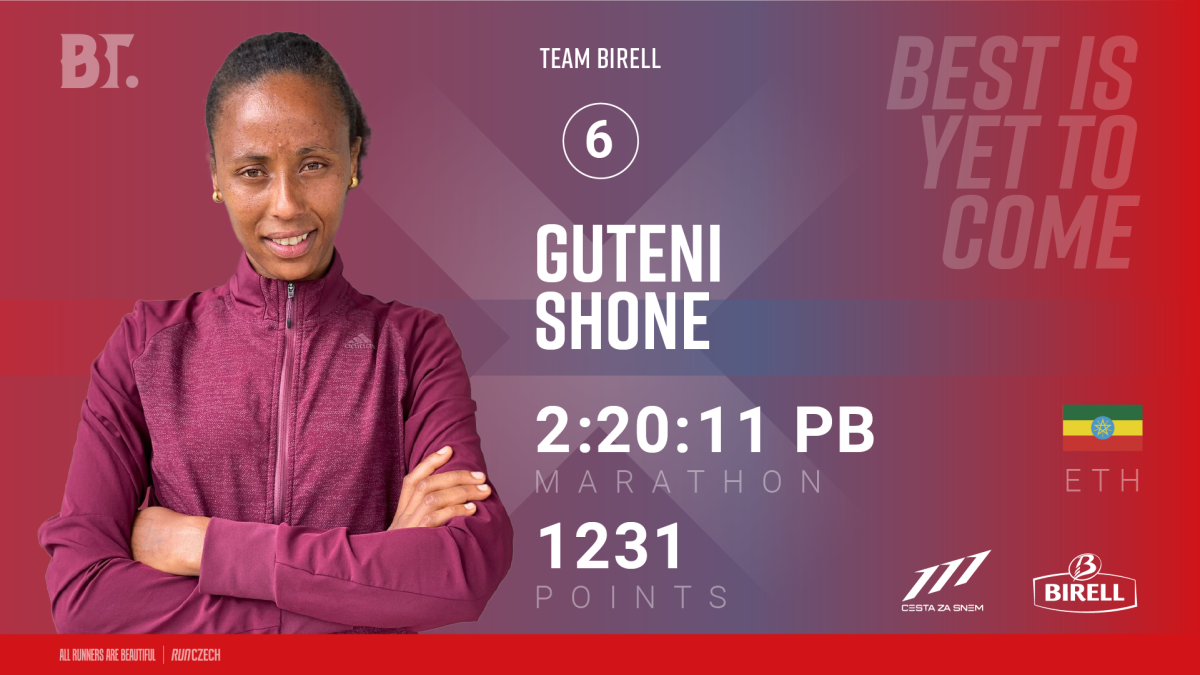 Guteni started her marathon career in 2013 with 2:42:25, developing over seven years to 2:20 marathoner she is today. With Top 20 in World rankings for the marathon distance and with victories in Seville, Ottawa and podiums in Lanzhou and Dubai, the best is yet to come for Guteni.
Guteni is the youngest of six children and is the only one involved with professional sport. Her talent for running was discovered during primary school days when Guteni ran well in cross country competitions and, by chance, has decided to give athletics a serious try.

While not training, Guteni spends her time actively helping others, visiting cultural places and events, watching sport events and movies on television.
Selection of notable performances
Winner of 2019 Sevilla Marathon, 2:24:28
Winner of 2017 Ottawa Marathon, 2:30:18
Winner of 2015 Seoul Marathon, 2:26:22
2nd in 2020 Dubai Marathon, 2:20:11
2nd in 2019 Lanzhou Marathon, 2:30:40
2nd in 2015 Houston Marathon, 2:23:32
2nd in 2014 Rotterdam Marathon, 2:30:23
4th in 2018 Lisbon Marathon, 2:31:41
4th in 2017 Xiamen Marathon, 2:29:58
5th in 2016 Porto Marathon, 2:38:23
5th in 2014 Amsterdam Marathon, 2:36:57
7th in 2018 Seoul Marathon, 2:27:53
7th in 2016 Vienna Marathon, 2:39:50
8th in 2016 Houston Marathon, 2:33:19
Winner of 2019 Kolkata 25K, 1:22:08
Winner of 2014 Egmond Half Marathon, 1:11:55
Winner of 2013 Luanda Half Marathon, 1:08:59
Winner of 2012 Nice Half Marathon, 1:11:11
2nd in 2017 Shanghai Half Marathon, 1:10:45
3rd in 2014 Ras Al Khaimah Half Marathon, 1:08:31
3rd in 2012 Olomouc Half Marathon, 1:15:42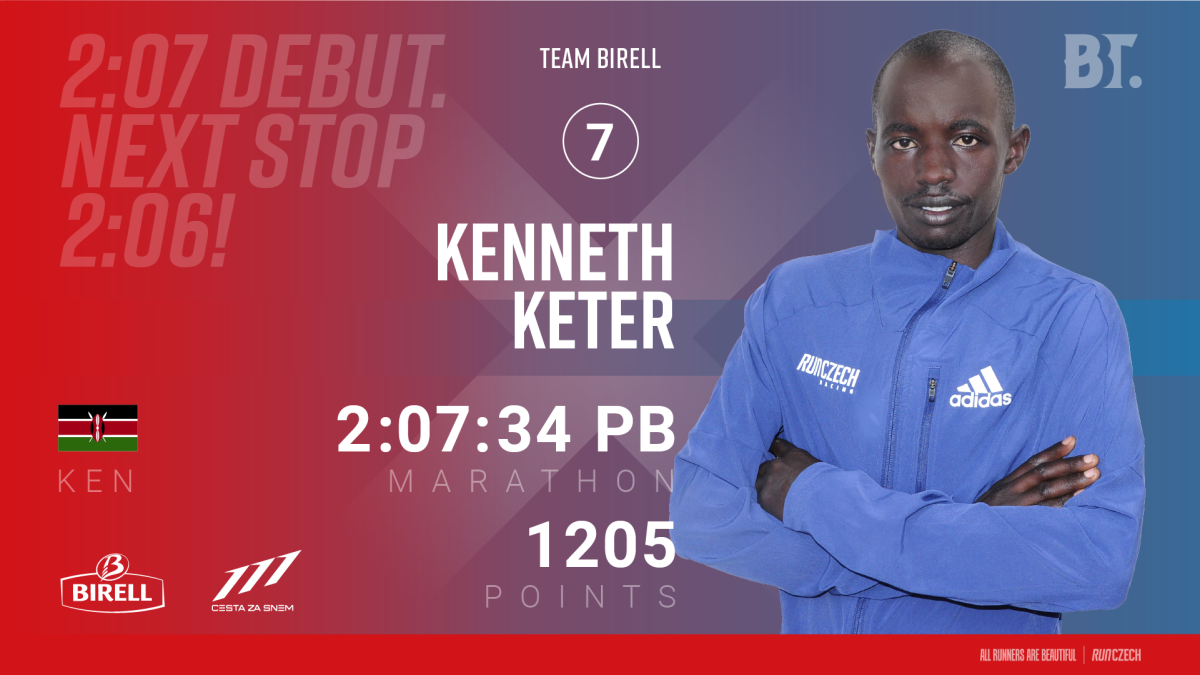 Young Kenneth is one of the first RunCzech Racing athletes and with 2:07 marathon debut in Frankfurt 2018, and after somewhat sub-par 2019, he is due for a rebound. Prague is his home away from home and we expect him to do well on the home turf.
From a large family of seven brothers and two sisters, Kenneth is the first established athlete in the family. He was born in Kaplolo Village, Elgeyo Marakwet, Kenya. Nowadays, he lives and trains in Iten, with his wife Caren and a daughter Prais.

Kenneth is part of the Ikaika Sports marathon group, covering about 180km every week. Aside from athletics, he enjoys watching local movies from DJ Afro and is a fan of Manchester United FC. His favourite player of all time is Wayne Rooney.
Selection of notable performances
5th in 2018 Frankfurt Marathon, 2:07:34 (debut)
7th in 2019 Frankfurt Marathon, 2:09:29
2nd in 2017 Olomouc Half Marathon, 1:02:14
2nd in 2016 Venlo Half Marathon, 59:48
4th in 2017 Paris Half Marathon, 1:01:50
4th in 2016 Gifu Half Marathon, 1:02:26
5th in 2017 Gifu Half Marathon, 1:01:48
6th in 2015 Usti nad Labem Half Marathon, 1:02:29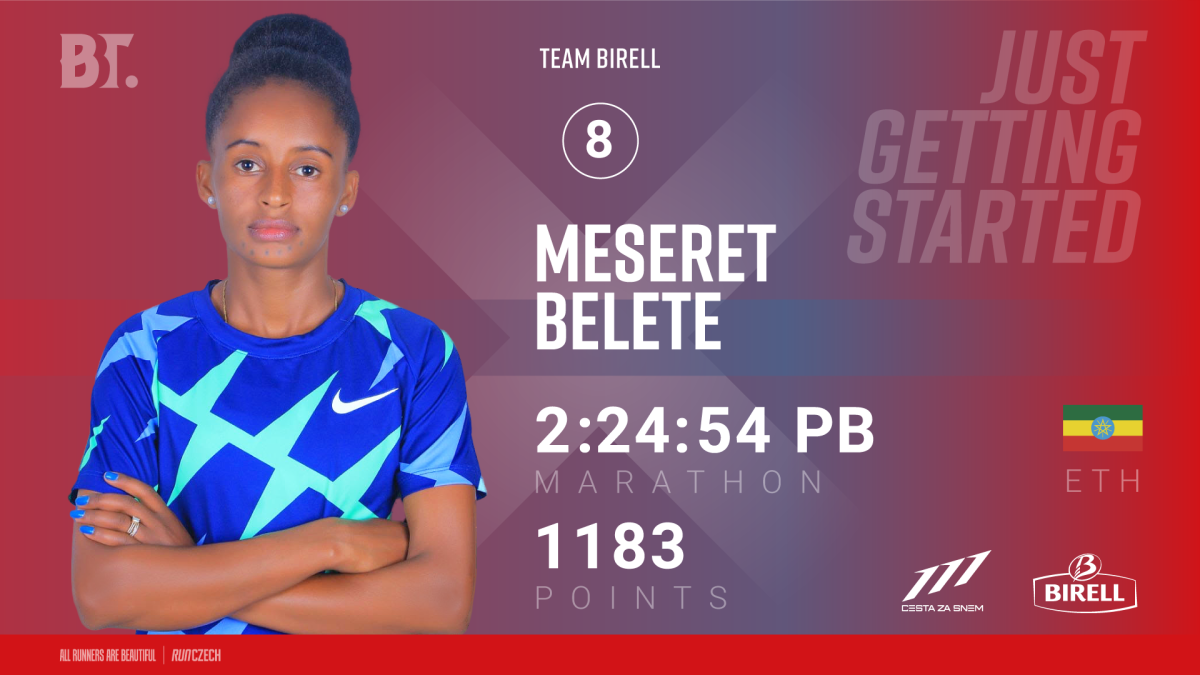 Meseret is a young, developing marathoner, with two Houston Marathons behind her, both with Top 5 finishes. She holds World Under-20 Best time for the half marathon distance, so talent is there. Are we going to witness a breakthrough? Time will tell.
Meseret burst onto the racing scene when she won the Goteborg Half Marathon in one of her first races outside Ethiopia. She was a part of gold medal winning team for Ethiopia at the World Half Marathon Championships in Valencia, Spain in 2018.

She is a very tiny and meek racer; she is soft spoken and very kind. Hailing from Jida, Ethiopia just outside of Suluta, which is North of the capital of Addis Ababa and famous for its training grounds; there was no reason why Meseret would not have been a professional athlete herself. She was born at 2500m altitude so naturally she took to training very well; and racing. Her home region is mountainous and home to vast landscapes of eucalyptus. Her home area hosts the famous Kenenisa Bekele training track, where many pro athletes have come to train in Ethiopia.

She is not married and has no children. She has facial tattoos based on traditions in her region and family lineage.
Selection of notable performances
3rd in 2019 All-African Games (half marathon), 1:12:08
6th in 2018 World Half Marathon Championships, 1:08:09
3rd in 2019 Houston Marathon, 2:26:56 (debut)
4th in 2020 Houston Marathon, 2:24:54
Winner of 2018 Goteborg Half Marathon, 1:09:06
Winner of 2018 Safi Half Marathon, 1:13:27
2nd in 2019 San Diego Half Marathon, 1:10:31
2nd in 2018 Ethiopian Half Marathon Championships, 1:10:35